Sloth is one of the seven deadly sins in Christian moral tradition, particularly within Catholicism, that refers to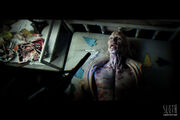 laziness.
Sloth is defined as spiritual or emotional apathy, neglecting what God has spoken, and being physically and emotionally inactive. It can also be either an outright refusal or merely a carelessness in the performance of one's obligations, especially spiritual, moral or legal obligations. Sloth can also indicate a wasting due to lack of use, concerning a person, place, thing, skill, or intangible ideal that would require maintenance, refinement, or support to continue to exist.
Religious views concerning the need for one to work to support society and further God's plan and work also suggest that, through inactivity, one invites the desire to sin. "For Satan finds some mischief still for idle hands to do." ("Against Idleness and Mischief" by Isaac Watts).
In the Philokalia, the word dejection is used instead of sloth, for the person who falls into dejection will lose interest in life. Laziness is not considered becoming in many traditional customs.
Method of killing
man dies of shock after coming out of some kind of chemically induced coma that has kept him immobilised in bed for exactly one year.