Gluttony, derived from the Latin gluttire meaning to gulp down or swallow, means over-indulgence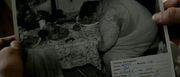 and over-consumption of food, drink, or wealth items to the point of extravagance or waste. In some Christian denominations, it is considered one of the seven deadly sins—a misplaced desire of food or its withholding from the needy.
Method of killing
victim is tied to a chair and forced to eat himself to death, although it was probably the kick to his side that split his stomach that probably finished him off, according to Dt Somerset. 
Ad blocker interference detected!
Wikia is a free-to-use site that makes money from advertising. We have a modified experience for viewers using ad blockers

Wikia is not accessible if you've made further modifications. Remove the custom ad blocker rule(s) and the page will load as expected.